No need to fret about packing breakables for a move because everything will stay in place if you follow these helpful guidelines.
There's a lot to carefully pay attention to, when it comes to moving, and all the more so when it's time to pack and haul all those fragile belongings you have at home. Be it porcelain sculptures, wine glasses, picture frames, or even grandma's precious ceramic ware, you're going to need to devote time and adequate care into packing these items.
If the thought of handling breakables already stresses you out, don't. We at SF Bay Area Moving have been assisting customers for more than a decade now and we'd be more than glad to give you the rundown on how to pack fragile items to secure them completely before a move.
The key thing to remember is that, like with everything else that matters, it takes time. Unlike items that are non-breakable, packing fragile belongings need more time to prepare for and handle. Make sure you don't rush the process so you can safely stow your breakables carefully.
CORE ESSENTIALS WHEN PACKING BREAKABLES AND OTHER FRAGILE ITEMS
Here's the list of helpful steps to make packing and handling delicate belongings safer and more seamless for you, especially if you're doing all the work yourself:
Prepare all your packing materials ahead of time

Before any actual packing, see to it that all the tools and packing materials you'll need are already within arm's reach. These include the following:
Heavy-duty packaging tape
Rolls of bubble wrap
Sheets of brown packing paper or even better if you can reuse scrap paper or brown paper bags
Corrugated cardboard rolls
Scissors and cardboard cutter
Eco-friendly foam peanuts
Styrofoam packaging sheets
Markers
Something handy to have around is also a sturdy, large table you can work on when laying out all your tools and doing your individual packing of items.
Set aside various packing box sizes and make sure they're of good quality
We cannot understate this enough – good quality packing boxes make all the difference in keeping your fragile items safe and secured in place while moving. And while you might be tempted to buy all the biggest-sized boxes available, we'd like to mention that having a set of multi-sized box options will help you to pack certain things better.
For instance, having smaller-sized boxes is ideal for packing more compact breakables such as shot glasses, small mason jars, and petite glass sculptures. A smaller-sized box filled with things like these also fills up the space more, limiting any extra movement inside the box while in transport.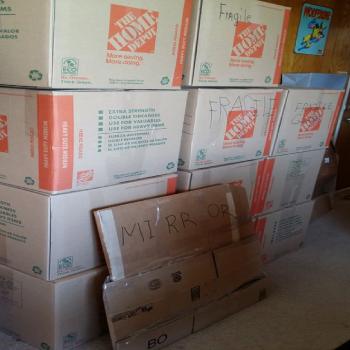 Pack each fragile item separately
We know that it might sound tedious, but when we said earlier that the key thing in packing breakables is time, we really meant it. You're going to need to carefully handle and pack each item one by one to ensure that nothing gets broken or loosened in the packing box.
For flat items such as plates and picture frames, wrap each with brown packing paper and stack them vertically inside a box that's lined with foam peanuts or styrofoam packaging sheets at the bottom and the top of the box.
For curved items like glasses, mugs, and bowls, wrap each kitchenware one by one with brown packing paper. Crumple packing brown paper and try to fit as much as you can into the curvature of each glass and bowl to fill up the empty space. Using specialty cardboard dividers for champagne flutes and other unevenly shaped containers can also be a great tool to keep your breakables in place.
For lamps, the first thing to do is remove the light bulb and fasten it separately in its own small box. Roll bubble wrap around the lamp. Line the bottom of the box with a few styrofoam packaging sheets and place the lamp vertically with the flat side at the bottom. Fill up the box with crumpled brown packing paper or foam peanuts.
Arrange each box according to the category of items inside
Your Tetris and Lego skills are going to come in really handy in this step. You'll want to put the heaviest items at the bottom of the box first and then reverse it to the lightest items at the very top. Make sure to fill the box with bubble wrap, crumpled brown packing paper, or foam peanuts to eliminate any empty spaces for the items to shift in during the move.
Fasten each box tightly with heavy-duty packing tape
Don't skimp on your packaging tape with this one. As much as you can, seal the top and bottom flaps of your boxes with at least 4 layers of packaging tape. The more tightly-sealed your boxes are, the more chances these will stay steady all throughout the loading, transporting, and unloading process of your move.
Label each box accordingly
Once each box has been sealed tight, immediately label each box with the breakable contents inside. This helps you to know where every single item is, and also helps you know where to position each particular box in your moving truck (like we said, Tetris skills helps). More importantly, don't forget to label "FRAGILE" on these boxes so you and whoever is helping you will know to be extra careful when handling them.
An extra set of helping hands always helps
And speaking of whoever is helping you, it's very essential that you enlist the help of a friend or family member to assist you when it's time to carry these boxes and load them onto your moving truck. Moving fragile items is a precarious job and having more bodies to help you is the way to keep the process hazard-free.
One last pro-tip: it's always better to leave this tedious task to the professionals. Top SF moving companies already know the nitty gritty of packing breakables and will gladly do the delicate work for you.
As a local mover who values customer satisfaction and safety, we at SF Bay Area Moving understand that your fragile items are priceless, that's why it's of prime importance to us to pack all these belongings with utmost care and attention.
From packing, hauling, transporting, unloading, and unpacking, we guarantee you that we will keep all your breakables protected all the way to your new home. Call us today for a free quote on how we can help you plan and prepare for your big move soon.